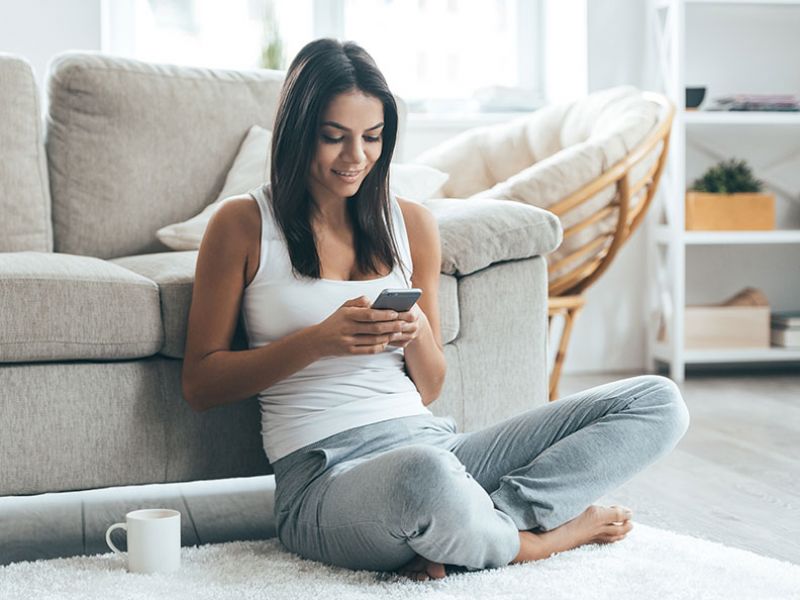 Atrévete a diseñar tu casa online con esta recopilación de las 10 mejores aplicaciones que recogemos en este post para inspirarte a decorarla y sacar ese interiorista que llevas dentro. ¿Preparado? Entonces, ¡comenzamos!
📲 Apps de diseño de interiores
1 ➜ Home Design 3D
Con esta app podrás diseñar tu casa desde cero, elaborando el plano en 2D y visualizarlo en 3D. Además, Home Design 3D permite crear, amueblar y decorar cualquier espacio de tu casa al gusto que más desees.
2 ➜ Magic Plan
De planos va la cosa, ¡y Magic Plan no iba a ser menos! Así que, si instalas esta app en tu móvil, podrás crear planos fácilmente y de gran calidad. Para ello, solo tienes que utilizar la cámara del teléfono para medir los espacios, ubicarte en el centro de la estancia, apuntar a los pies para calcular la altura y luego mover la cámara alrededor para captar el espacio. Así de sencillo, ¡pruébala!
3 ➜ SnapShop Showroom
Una app de lo más práctica y visual: a través de fotos de las estancias, puedes observar cómo quedarían realmente gracias a la superposición en tiempo real de objetos y elementos que proporciona la propia app. Sin duda, la mejor manera de estar 100% seguro del resultado antes de comprar cualquier mueble y objeto decorativo.
4 ➜ Houzz Interior Design Ideas
Born to be the best! Esta app de diseño de interiores es considerada por lo expertos o amantes de la decoración online como una de las mejores y más completas, ya que cuenta con una gran base de datos (ni más ni menos que con 13 millones de fotografías en alta resolución), ayuda a poner marcadores a las fotos y a crear tu propio libro inspiracional con todas las ideas que más te atraigan, así como comprar productos y compartir tus fotos a través de una comunidad online y todo ello… ¡de forma gratuita!
5 ➜ Pantone Studio
El color en temas de diseño y decoración de interiores es imprescindible, ya que es uno de los grandes protagonistas. Dada su gran importancia 'Pantone Studio' propone, a través de su app gratuita, capturar colores reales a partir de una fotografía o buscarlos en imágenes digitales, así como ofrece una guía Pantone (la reina de las reinas a partir de la cual se rigen todos los colores del mundo mundial) con todas sus referencias de color y versiones en RGB, CMYK y hexadecimal y últimas tendencias sobre los colores Pantone. Precisamente en este sentido, te recomendamos que eches un vistazo a nuestro post sobre Color pantone 2018: decoración a lo ultravioleta.
6 ➜ Blophome
Con la herramienta Blophome, podrás autodecorar cualquier espacio de forma online: una manera muy sencilla y profesional de darle un nuevo estilo decorativo a cualquier estancia de tu hogar. Además, esta app incluye tres versiones muy prácticas: nivel usuario, profesional o para empresa, así como un amplio catálogo de productos de marcas conocidas, ¡completísima!
7 ➜ Planner 5D
Esta app también se utiliza para elaborar planos muy realistas de forma sencilla y detallados, tanto en modo 2D o 3D, así como permite personalizar y elegir el mobiliario, accesorios y elementos decorativos que ofrece el catálogo propio de la app.
8 ➜ Roomle
Con Roomle también podrás hacer planos en 3D de tu propia casa. Pero no queda ahí, sino que además a través de la realidad aumentada, podrás ver cómo quedarán los muebles que más te gustan de marcas del mercado conocidas o incluso el color de la pared. ¡Muy recomendable!
9 ➜ iHandy Level
Si eres un maniático del orden y no soportas ver un cuadro desalineado, ¡esta app es la tuya! Con iHandy Level podrás alinear perfectamente al milímetro los cuadros decorativos de tu salón, habitación… y evitar también las puertas y paredes con ángulos equivocados. Y es que la perfección está en iHandy Level ;)
10 ➜ Bruguer Visualizer
Elige el color de las paredes de forma divertida con esta app de diseño. Con ella, podrás hacer pruebas con ideas de pintura y simular cómo quedarían las paredes de tu hogar con la paleta perfecta, y además podrás compartirla con familiares y amigos o incluso con profesionales para obtener una segunda opinión.
Con estas 10 apps de diseño de interiores podrás diseñar tu casa online y ver cómo queda antes de ponerte manos a la obra a hacer realidad esas ideas decorativas, ¡adelante!
Compartir